Accept contactless payments on your smartphone
No extra equipment required. All you need is an NFC-enabled smartphone and tap2go app.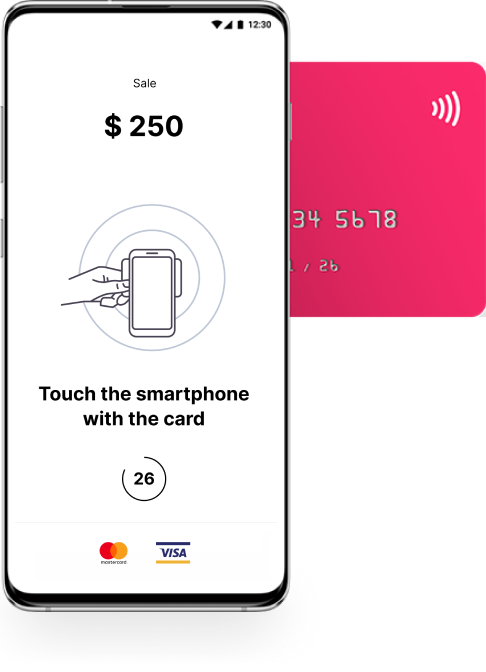 One-tap payment
As secure as a bank terminal - on your smartphone.
Software-only
The app turns the Android smartphone with NFC into a smart POS terminal for accepting contactless payments. No extra hardware required.
Contactless
Contactless payments, with cards or Google Pay, Apple Pay, Samsung Pay devices, are becoming increasingly popular, today they can make up more than 80% of all cashless payments.
Security
All data is transmitted only in an encrypted mode, with no payment data stored on the smartphone. Compliant with
VISA Ready
and PCI DSS Level 1 security standards.
How it works
One tap to pay.
1
The consumer touches the merchant's smartphone, that has tap2go app installed, with contactless card or smartphone;
2
tap2go exchanges data with the card or smartphone and sends an encrypted package to a service provider to make a transaction in the payment system;
3
The merchant receives results of payment authorization;
4
The consumer receives paid goods or services and an electronic receipt.
Why tap2go
Future
By 2023 contactless will become the most popular payment method.
Inexpensive
Save money on equipment - all you need is your smartphone.
Simple
No extra devices, no batteries, no cables.